This course is a series of dynamic activities that focus on the customer to generate a profitable exchange. Students will gain knowledge and skills that help them to be proficient in one or more of the marketing functional areas while also integrating various academic and employability skills. The practicum course requires a paid or unpaid employment experience for students participating in a coherent sequence of career and technical courses in marketing.
---
​



​All course content including powerpoints, activities and lessons are published in the appropriate course on Google Classroom.

Google Classroom is used to help provide students with access to the day's lesson, a resource for studying, and provide visual support for students before, during and after a lesson. In addition, it provides students with a timeline of content.
---

First Six Weeks

August 28: First Day of School
Hand out and discuss syllabus, required materials and classroom expectations. Complete Marketing General Information Sheet.
August 29/30: Syllabus Scavenger Hunt
Grade: Worksheet (DW)
August 31: Murder Mystery
September 1: iPad and Technology set up day
September 4: HOLIDAY
September 5/6: Handbook, Job logs and Pay Stubs

Grade: Job Log example (DW)
September 7/11: Employer Evaluation and vocabulary activity
Grade: Employer eval presentation and quiz
September 8: Training Plans
Grade: Training Plan (DW)
September 12/13: OSHA/Child Labor Laws
Grade: Activity (DW)
September 14/18: Test Review and Game Day
September 15: Employer
Evaluations
Grade: Employer Evaluation (EVAL)
September 19/20: TEST
September 21 - 29: Verizon Create an App Challenge
Lessons include: Characteristics of a Good Presentation, Characteristics of an Oral Presentation, Presentation
Grade: 2 Exit Tickets (DW), Presentation Supplemental Material (TEST), Oral Presentation Skills (TEST), Peer Evaluation (DW), Active Listening (DW)
September 22: International Advertising
Grade: Read and Interpret an Article (DW)
October 2/3: DECA Introduction and activities
Grade: Job Logs Due
Powered by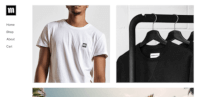 Create your own unique website with customizable templates.